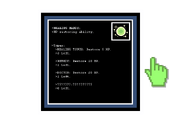 Healing hands is Nino's special ability. Through the use of Healing Hands, Nino can cure all sorts of physical wounds. While the young hero personally thinks that his power is lame, it has been amazingly useful in his journey thus far, saving his own life, and Five's.
Using Nino's inventory, we can see the uses of his ability rather in depth. (The following information is taken directly from Page 12 of the comic. So far, the ability has four tiers or "types." Healing Touch, which restores 5 HP. Remedy, which restores 10 HP. Doctor, which restores a whopping 20 HP. And finally, ???????:?????????? an unidentified type, likely to be unlocked as his journey continues.
Each type of Healing Hands come with a set amount of uses, which need to be restored in order for Nino to use the Ability. At the start of the adventure, Healing Touch has 3 uses, Remedy has 1 use, and Doctor has 1 use. Not too long after Nino uses Remedy to save Five it is discovered that Nino can recover a use of Remedy, via a small group of Yellow Flowers. It is not known whether he got the extra use specifically from the flowers themselves, or through the powerful memories that coming into contact with the yellow flowers brought on.
Community content is available under
CC-BY-SA
unless otherwise noted.